Precision Engineering & Quality Control Apprenticeship
Apprenticeship in Precision Engineering – Level 6:  Duration: 3 Years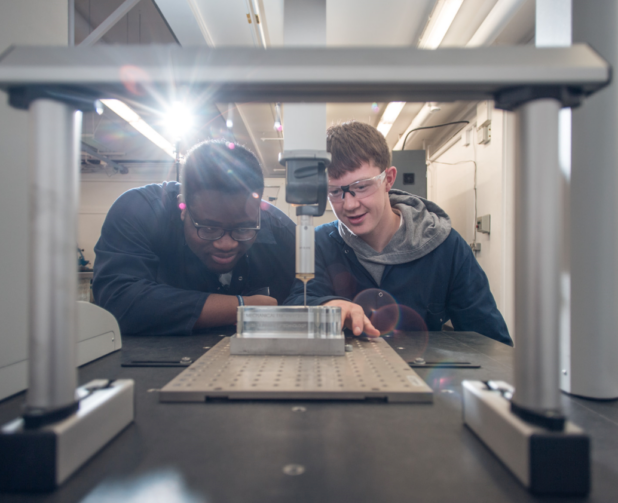 Precision engineering is involved with the design, manufacturing, and measurement of highly specified parts for the medical, aerospace, automotive, oil and gas exploration and related industry. This Level-6 apprenticeship has been designed with industry to respond provide a highly skilled and valued programme in the advanced manufacturing industry.
Apprentices will learn how to work effectively with both manual and CNC machines to produce parts from an initial design to a final product. Parts are designed using CAD systems to develop solutions to engineering problems and when manufactured the accuracy will measured using specialised measurement equipment such as co-ordinate measuring machines (CMM). Learners will work as individuals and in groups on a variety of industrial standard engineering projects.
This Apprenticeship programme is an active learning programme with the application of theory in workshop/labs with hands-on experience on state-of-the-art CNC machines, CAM software and metrology equipment. Students will work on advanced CNC machines, advanced CAM software metrology equipment while also understanding the mathematical and science required to work in an advanced manufacturing company
This three-year programme will be completed while working and studying both at work and in college. Apprentices will be released from work to attend college to complete their off-the-job phases.
During this programme the apprentices will be required to complete a structured on-the-job programme of work-related activities before progressing to the next phase of education and training. Over 70% of the apprenticeship time will be spent at work.
Graduates will work as precision machinists and quality controllers in world class manufacturing and production environments and will be highly skilled in areas of CNC machining, CAD/CAM, metrology, and material selection methods.
What will I be able to do when I finish the programme? 
An apprentice who has completed this programme will be able to:
Design & develop complex CNC programmes using CAD/CAM technology to produce complex 3-dimensional components.
Determine the required properties of components and select the correct materials to meet the design needs.
Interpret engineering drawings and carry out model-based inspection of components using CMM and VMM technology.
Utilise manual and industrial CNC machines to produce complex parts to produce these parts. 
Drive process improvements/capacity increases through new technology / equipment selection and specification. 
Validate requirements on new equipment introductions / processes / process changes. 
Preparation and maintenance of all relevant manufacturing specifications. 
Support manufacturing process development to meet project milestones and to allow operations to meet their targets. 
Work on projects that involve individual skills and groups work to solve engineering problems.
Support key business metrics with ongoing process improvements and introduction of new manufacturing processes and technologies.
Features of the programme
Learn while earning. Industry based apprenticeship paid work.
Work and learn on world class equipment, software, and projects.
Industry level skills and knowledge.
Build your knowledge from the basics to complex processes through high practical content in manual and CNC Machining. 
Uses industrial equipment to solve real industrial problems; 5 axis machining, Twin spindle lathe work with driven tooling, high speed machining strategies.
Metrology and Six Sigma content aligned to the ASQ Yellow and Green belt qualifications.
Allows for maximum learning and self-development; work offline and develop skills, knowledge, and competence. 
Develops a deep knowledge of materials, design, and manufacture through the utilisation of modern technology.
Developed in conjunction with world class companies in response to a shortage in highly skilled precision machinists
Additive manufacturing and CAD 
Robotics and Automation in CNC machining
Progression to Level 7 and 8 programmes within Technical University of the Shannon and other colleges/universities.
Programme Structure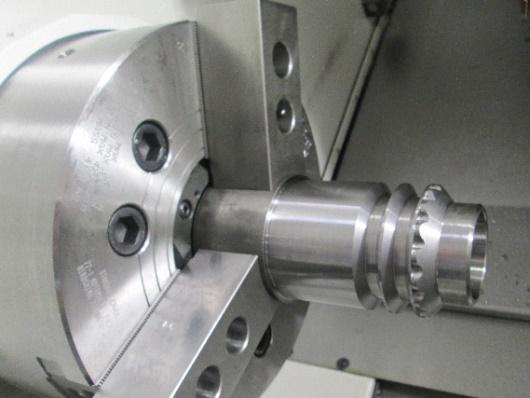 Stage 1: Employer recruitment and registration
Stage 2: Block release to Education (15 weeks)
Introduction to Computer Aided Design
CNC Machining, Programming and Setting; Milling
Communications & Computing
Introduction to Measuring Equipment and Quality Control
Engineering Workshop Technology and Practice
Introduction to Engineering Maths and Engineering Science
Stage 3: Industry Based 1
Stage 4: Block release to Education (15 weeks)
Computer Aided Design for Machining
Multi Axis machining and Programming
CAM Programming and Operation
Metrology and Quality Control
Engineering Maths
Engineering Science
Stage 5: Industry Based 2
Stage 6: Block release to Education (15 weeks)
CAD and Additive Manufacturing 
Multi Axis machining and Programming

5 axis machining 
Robotics
Wire EDM 
CAM Programming and Operation

Metrology and Six Sigma 
Applied Engineering Maths 
Stage 7: Industry Based 3
On-the-Job education and Project work.
Employment opportunities
Graduates will typically be employed in one of the following roles in the medical device, human implant, and Life Sciences Industries:
Precision machinists with multi axis machining work
CAD Design technicians in manufacturing
CNC machinist and programmer 
Materials selection and processing. 
Process measurement and control 
Equipment test engineer/technician
Project Implementation 
Additive Manufacturing 
Six Sigma and Continuous Process improvement 
Metrology and Quality Control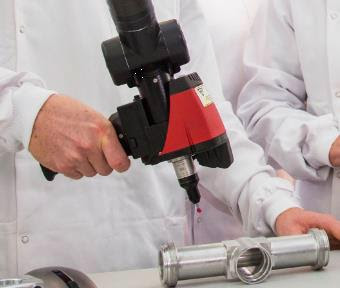 Further Education Opportunities
Apprentices can progress to Level 7 and Level 8 Engineering programmes subject to meeting the entry requirements. Entry to TUS Precision Engineering degree programmes at advanced level will be on a case-by-case basis but applications are encouraged. 
Minimum Entry Requirements
Leaving Certificate: A minimum of 5 Passes in Leaving Certificate subjects, including Mathematics and English/Irish.
Candidates applying as mature applicants will be required to attend an interview and may be requested to take an aptitude test to prove their suitability for a place on this programme.
Advanced Entry to this Apprenticeship
Candidates who hold a relevant qualification and/or certification with appropriate endorsements or examination attainments in a cognate area can be considered for advanced entry subject to a satisfactory interview.